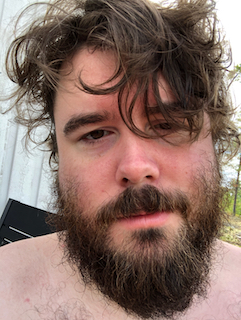 Erik Nyström
Economist working as macro analyst with a focus on artificial intelligence and crypto-assets
The views expressed here are my personal views.
Feel free to contact me. Send your mail to my first name at this domain.
---
This is the personal web site of Erik Nyström. It has been brewing since 1998 but now it's more of a place holder for my interwebs domain.
It's mostly validated HTML and light on the graphics. You can access this site from an old computer and you won't have to wait an eon for any of the pages to load.
Freedom and civil liberties. Patriotism means protecting those.
A Humorous Bio
Computer enthusiast from northen Sweden who is currently working at the IT deparment of the Galactic Empire, directly under Darth Sidious. In contrast to Linus Walleij I was not fired by Palpatine due to lack of work.
Involved in lot of free software and open-source projects. Written lots of code.
Feel free to contact me. Send your mail to my first name at this domain.
Here are some things I host to guarantee that they won't disappear from the internet. If you own the content and is offended by this, please contact me.
English
Svenska
The typical user manual that comes with your NIBE heat pump will now days contain a oversimplified description of how to adjust the room temperature. For example, they assume that you have installed an indoor room sensor and only show you how to set the desired target temperature by setting the number of degrees in Celsius or Fahrenheit. Totally worthless.
If you are trying to find more advanced settings for your heating curve, you are simply referred to your installer.
Many installations, including my own, lack indoor room sensors and are controlled solely by a sensor located outdoors. There are several reasons why this is sometimes a better solution, but I'll leave it at this point and focus on the heating curves.
Heating Curve Charts
Here you can download two different heating curve charts that I've created. One with the typical range of a normal house in northen Sweden and a bigger one with much more combinations (if you have floor heating for example).
Saab (under construction)
What are the differences between the Saab Audio Systems?
The different audio systems in the Saab 95 have different head units, amplifiers, and speakers.
Power output, number of speakers, sound quality, and cost varies with AS1 at the low end and AS3/ES3 at the high end. The AS2 and AS3 systems share the same head units, either the radio/CD/tape head unit or the radio/navigation head unit. The radio/navigation head unit is available as factory option starting with model year 2003½ (on selected markets) and available as aftermarket upgrade for model year 2001 cars, and later, prewired for navigation system.
The following table lists features of the factory installed audio systems found in the Saab 95.
Nov 10, 2022: This part is under construction and far from finished. Lots of data missing. Working on it from time to time.
| Model Years | Audio System | Head Unit | Power | Speakers | CD Changer |
| --- | --- | --- | --- | --- | --- |
| MY 1998 - 2005 | AS1 / Popular | Radio and CD | 80W | 4 locations Instrument panel, L & R Rear doors, L & R | Option |
| MY 1998 - 2005 | AS2 / Premium | Radio, CD and tape | 150W | 7 locations Instrument panel, L & R Instrument panel, Center Front doors, L & R Rear doors, L & R | Option |
| MY 1998 - 2005 | AS3 / Prestige (4 doors) | Radio, CD and tape | 200W | 9 locations Instrument panel, L & R Instrument panel, Center Front doors, L & R Rear doors, L & R Rear shelf, L & R | Option |
| MY 1998 - 2005 | AS3 / Prestige (5 doors) | Radio, CD and tape | 200W | 8 locations Instrument panel, L & R Instrument panel, Center Front doors, L & R Rear doors, L & R Cargo area | Option |
| MY 2002 - 2004 | AS2 + Navigation | Radio and navigation 7 inch LCD screen | 150W | 7 locations Instrument panel, L & R Instrument panel, Center Front doors, L & R Rear doors, L & R | Standard |
| MY 2002 - 2004 | AS3 + Navigation (5 doors) | Radio and navigation 7 inch LCD screen | 200W | 9 locations Instrument panel, L & R Instrument panel, Center Front doors, L & R Rear doors, L & R Rear shelf, L & R | Standard |
| MY 2002 - 2004 | AS3 + Navigation (5 doors) | Radio and navigation 7 inch LCD screen | 200W | 8 locations Instrument panel, L & R Instrument panel, Center Front doors, L & R Rear doors, L & R Cargo area | Standard |
| MY 2005 | AS2 + Navigation | Radio, CD and navigation 6.5 inch LCD screen | 150W | 7 locations Instrument panel, L & R Instrument panel, Center Front doors, L & R Rear doors, L & R | Standard |
| MY 2005 | AS3 + Navigation (4 doors) | Radio, CD and navigation 6.5 inch LCD screen | 200W | 9 locations Instrument panel, L & R Instrument panel, Center Front doors, L & R Rear doors, L & R Rear shelf, L & R | Standard |